Birthday Party Games
Pampered Kidz Birthday Party Games are fun for all gatherers
Pampered Kidz surprises with presents at kids birthday party games
Kids deserve to be pampered. So Birthday parties at pampered kidz are not only specialized with theme cakes, indeed to keep the kids happy and exciting all through the party, we had our brains working to come up with some of the best party games for children which is for sure to be fun for all your birthday party guests. So be enthusiastic to pick up your choice of birthday party games for kids among the following favorites centering interests of your child or our birthday party organizers are always there to advise you to hit your party.
Balloon Popping – Funny as long as they pop the targeted balloon.
Musical chairs – energetic fun party games for kids with exciting surprise at the end
Blind bluff sketching– a team entertainment where the missing tail should be drew by bluff master with team support.
Simon says!!!– create waves of humor among your guests with pranks and jokes, no need to say that best one's get rewarded.
Bubble contest – kids love the fun with soap bubbles with a twist to blow bubbles through a ring with a spirit of winning the surprise.
Story telling – little cuties creating stories one after another, this is fun for all the audience.
Cracking riddles – where kids can team up with adults.
Tongue twisters – our organizers be a part of your party to make it extra fun.
Lemon N spoon – common yet fun loving where every kid can get a chocolate.
Pass the property – a group game where kids have the chance to show their own talents.
You have lots to choose from various options. With birthday party games for kids as a piece of entertainment our great services include inflatable's in fun shapes where kids can slide, jump, and bounce. For a fun of all ages along with birthday party games our party entertaining artists can engage kids with their artistry and voices that can make them seated.
Few options in your fun-ride with us include:
A bouncy castle
Slides
Custom Cookie Stations
Bounce houses
Climbing hurdles
Face painting
Magic shows
Mimicry
Puppet plays
Cotton candy machine
Popcorn machine
Enjoy pampered kidz fun games for kids birthday party with joyful time and huge surprising elements and entertainments. Book your birthday party games for kids and enjoy with the equal fun for all age groups. We are happy to assist you so you can call us for more details on Game instructions at (+91)-7731040404.
FUN-FILLED ENERGETIC BIRTHDAY PARTY GAMES IN HYDERABAD
Pampered Kidz is the only kids party zone that offers a wide variety of amusement birthday party games to all the children to fill joy and surprise in their eyes.
We Strive to make your kids very happy and joyful filling with huge surprise games that will make your birthday party turn into an amusement park.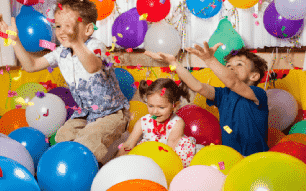 Here are list of PARTY GAMES Offered by Pampered Kidz Your Kid can enjoy and celebrate for his birthday :
Jumpy castle
Face Painter
Balloon Maker
Cotton Candy Machine
Custom Cookie Stations
Blowout Art Table
Kids Museum
Bounce Houses
Obstacle Courses
Inflatable Slides
And Loads of Amenities like kids swimming pool , mazes and much much more.
PAMPERED KIDZ Bring you all this headsmacking joy games within an affordable and very reasonable prices.
BOOK NOW